"uventa"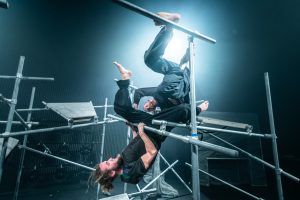 The audience will experience an embodiment of risk and (im)possibilities, as well as how the parkour body is exposed and inserted into a rigid system as before and challenges its movement patterns. Uventa thus investigates how structures both arise and dissolve through aesthetic means to see how we as humans influence and are influenced by visible and invisible networks. Read more about uventa here
Choreography Antero Hein
Co-creators and performers Severin Romer Iversen, Nikolai Arnesen og Tommy Jansen
Composer Tommy Jansen
Scenography Carl Nilssen Love
Dramaturg Cecilie Lindemann Steen
Light- and videodesign Reidar Richardsen
Producer, costumes and additional light- and videodesign Antero Hein
---
"UNI"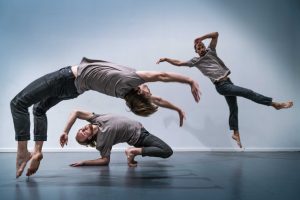 In UNI, we meet three men who perform a humorous, naturalistic acrobatic surprising piece. Through an unpredictable approach to sound, movement and song, they create a light, yet exciting atmosphere, where the audience is placed in a state of uncertainty that will detach them from their realities and deceive them into a kind of belonging between the audience and the performers.
Read more about UNI here

Choreography: Antero Hein
Performers & co-creators: Alexander Montgomery-Andersen, Alexander Aarø & Antero Hein
Music: Alexander S.L. Aarø
---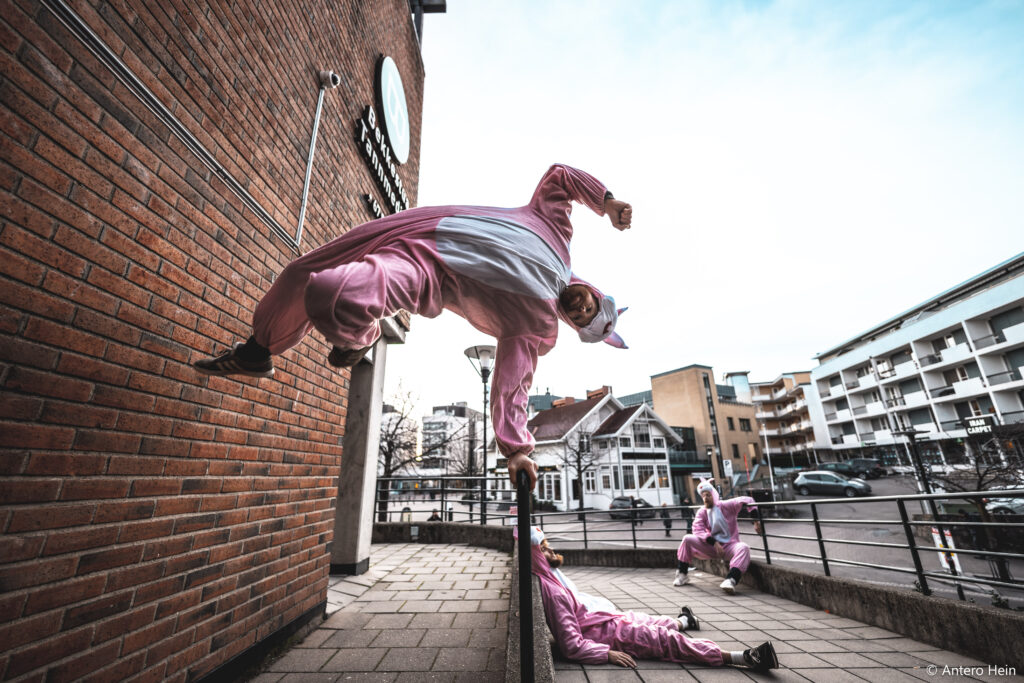 "hOPPs"
The project is a physically engaging performance that involves movement artists from several creative fields. Such as contemporary dance, parkour, circus, hip hop, acrobatics and breakdance. We explore courtyards and opportunities for creative movement. The target group is 0-13 years.
Read more about hOPPs here

Concept/Scenography/Costumes: Carl Nilssen Love
Choreography: Antero Hein
Performers & Co-creators: Nikolai Arnesen, Severin Romer Iversen, Kevin Fjellmyr, Antero Hein & Christian Hanssen.
Music: Alexander Aarø/John Derek Bishop.
Supported by: Fond for utøvende kunstnere, Fond for lyd og bilde, Bærum Kulturhus.
---
"NOCTURNAL"
An old house with windows facing the street. Two figures in each window. They dance together, but still separately, never to meet. With the moon slowly moving through its usual cycle, with forces that neither the sea nor the earth's creatures can resist.
Read more about NOCTURNAL here

Choreography & Performers: Sudesh Adhana & Nora Svenning
Videodesign: Antero Hein
Music: Steve Reich
Costumes: Marita Solhjell Ølander
Photo & film: Antero Hein/Hein Creations
Residens: R.E.D. residens Eina Danz
Supported by: Kulturrådet
---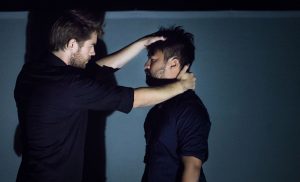 "SCHISMOGENESIS"
Two men perform a ritual, a playful and animal-like choreography. Through repetetive movements and attacks they create rhythmical beats. As their bodies melt into one but yet get separated – their relation becomes more complex. As lights and shadows are forming the room, the duet intensifies through physical attacks, -creating a visually expressive and intimate world. Premieres in October 2016.
Read more about Schismogenesis here
Trailer: https://vimeo.com/191803012
Choreography: Tony Tran & Antero Hein
Dancers: Tony Tran & Antero Hein
Composer: Jens L. Thomsen.
---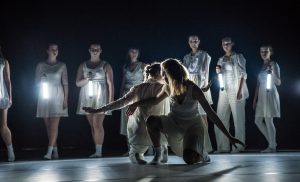 "OBVIA"
As dawns of existence "OBVIA" hovers between the concrete and the abstract. The piece was performed as a part of "Trippeldans" in Baerum Kulturhus in 2015.
Choreography: Antero Hein
Dancers: Anine, Tiril, Martine, Julie, Andrea, Caroline, Eva, Pernille, Hanna, Thilde, Rebecca, Else, Elin and Nikoline.
---
"NOTHING TO SEE"
The piece was made for the students at Rønningen Folkehøyskole as a part of their new years performance in 2014.
Choreography: Antero Hein
---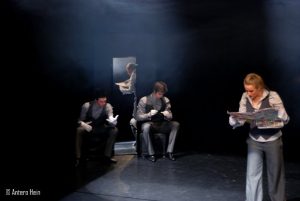 "MAINSTREAM"
Mainstream is what's the new trend. When one "style" gets old, a new one is reborn. A mainstream person is someone who jumps from trend to trend so that they fit in with the rest of the crowd. Mainstream is being what society thinks you should be, and look like. Premiered in february 2009.
Choreography: Niclas Andersson, Eline Palm, Antero Hein
Dancers: Mikaela Brinte, Niclas Andersson, Eline Palm, Timmy Bergström, Antero Hein, Linnea Fridmann Sandin