"UNI"
UNI jobber med et humoristisk, akrobatisk og overraskende uttrykk, "UNITY" og "UNIK" er temaer som har stått sentralt i utarbeidingen av stykket. Hvordan det er å være annerledes/ hvordan det er og være sammen. Gjennom lyd, sang, dans og akrobatikk jobber vi alene, i gruppe, mot hverandre, med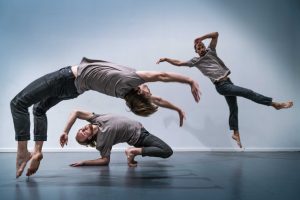 hverandre. Vi møter tre mannlige fysisk sterke utøvere som utfører krevende og ekstreme bevegelser blandet med myke og følsomme bevegelser. Uttrykket "Du er unik, akkurat som alle andre" har inspirert prosessen. På en humoristisk måte forklarer den at i det store hele er vi sammen men som en og en er vi spesielle og kan gjøre en forskjell. Humor, seriøsitet, følelser og ekstremitet utformer atmosfæren for stykket.
Trailer: https://vimeo.com/360009317
Choreography: Antero Hein
Dancers and co-creators: Alexander Montogomery-Andersen, Alexander Aarø & Antero Hein
---
"SCHISMOGENESIS"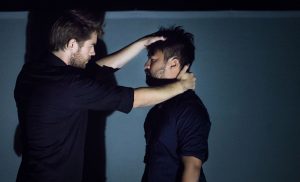 Two men perform a ritual, a playful and animal-like choreography. Through repetetive movements and attacks they create rhythmical beats. As their bodies melt into one but yet get separated – their relation becomes more complex. As lights and shadows are forming the room, the duet intensifies through physical attacks, -creating a visually expressive and intimate world. Premieres in October 2016.
Trailer: https://vimeo.com/191803012
Choreography: Tony Tran & Antero Hein
Dancers: Tony Tran & Antero Hein
Composer: Jens L. Thomsen.
---
"OBVIA"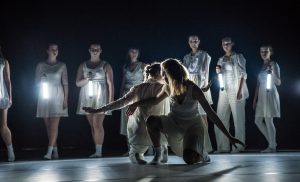 As dawns of existence "OBVIA" hovers between the concrete and the abstract. The piece was performed as a part of "Trippeldans" in Baerum Kulturhus in 2015.
Choreography: Antero Hein
Dancers: Anine, Tiril, Martine, Julie, Andrea, Caroline, Eva, Pernille, Hanna, Thilde, Rebecca, Else, Elin and Nikoline.
---
"NOTHING TO SEE" 
The piece was made for the students at Rønningen Folkehøyskole as a part of their new years performance in 2014.
Choreography: Antero Hein
---
"MAINSTREAM"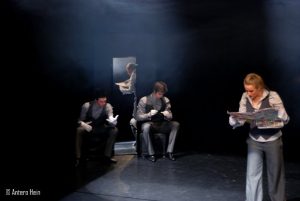 Mainstream is what's the new trend. When one "style" gets old, a new one is reborn. A mainstream person is someone who jumps from trend to trend so that they fit in with the rest of the crowd. Mainstream is being what society thinks you should be, and look like. Premiered in february 2009.
Choreography: Niclas Andersson, Eline Palm, Antero Hein
Dancers: Mikaela Brinte, Niclas Andersson, Eline Palm, Timmy Bergström, Antero Hein, Linnea Fridmann Sandin